Customer Reviews
02/10/2021
Sarah W.

United Kingdom
Baby I want to keep my reputation, I'm a sensation. You try me once you'll beg for more!
If you're looking for a tote that's strong and durable enough to carry shopping or hold your favourite disco roller skates, already you need look no further. Quality-wise, this tote goes above and beyond; you can tell it's made to last. And if you're becoming more conscious of choosing sustainable and cruelty-free products, as many of us are, the fact it's 100% organic, ethically-made and vegan-friendly, means it ticks extra boxes. However, even more that – if, like me, you like to make a statement with your outfits and accessories – this iconic bag is going to grab attention and make you stand out from the crowd. With a fun and authentic vintage feel, it'll have you strutting your stuff down the street like the disco king or queen that you are. Yes sir, it's worth every penny!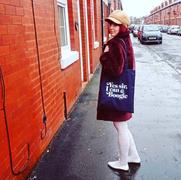 01/08/2021
Enrique M.

Spain
Great purchase
Fun gift! excellent quality
01/08/2021
Brutus Gold Boutique
01/01/2021
Sally M.

United Kingdom
Sooo CHIC!
Easy website to navigate arrived in 3 days...Love your brand and novel packaging.